Bigger Shoes
Yes, this ends up as a metaphor. Also, an offer of some shoes. But it's mostly about trying to get past that pandemic feeling of irrelevance.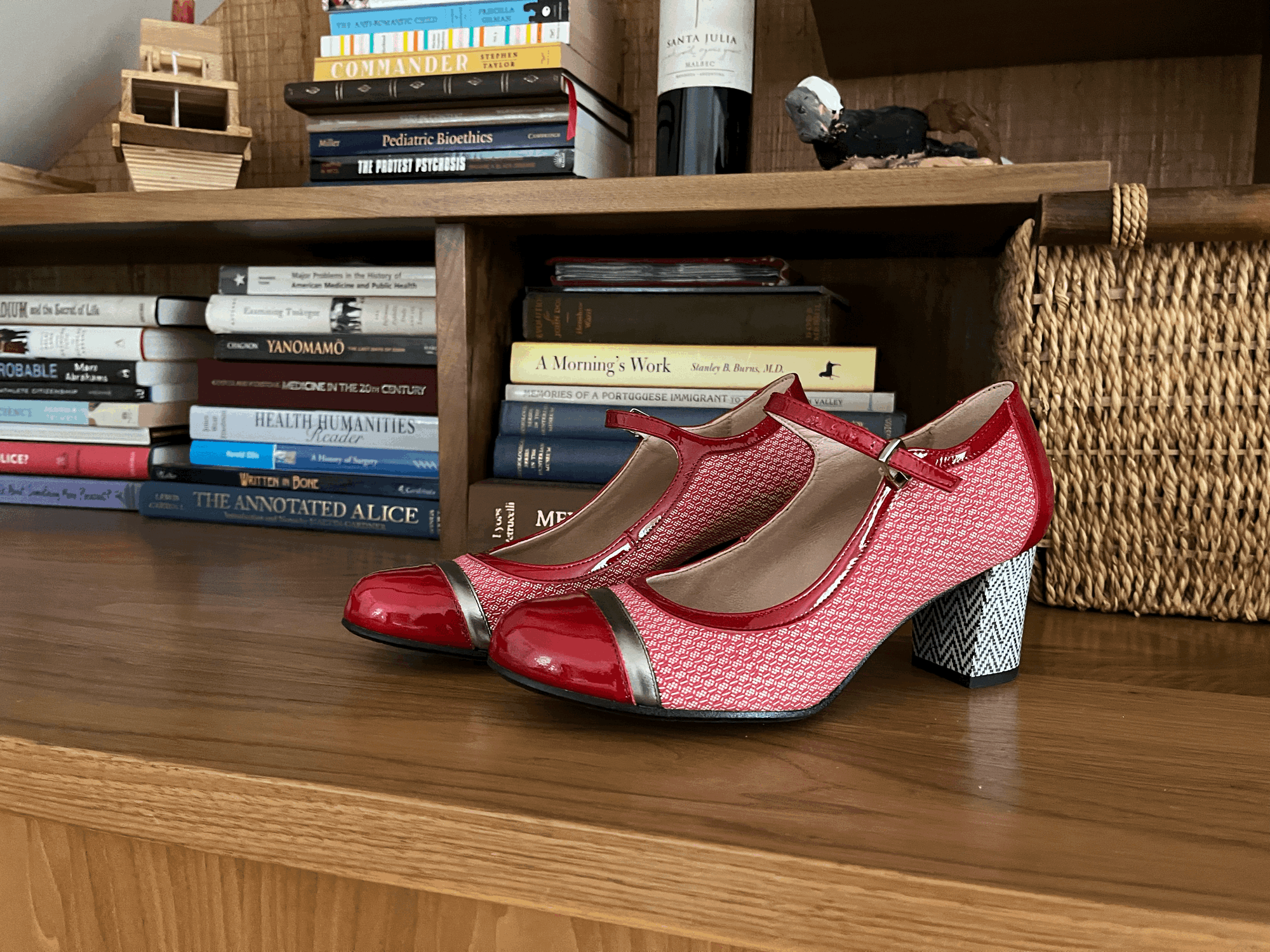 Yes, this ends up as a metaphor. Also, an offer of some shoes. But it begins with the discovery –  the day before I was scheduled to go to a book party hosted by Christie Hefner at her Chicago home – that my ten or so pairs of dress pumps no longer fit.
Not the two-toned black ones with the kitten heel good for standing around drinking cocktails, not the brown ones with the alligator-skin texture that looked surprisingly serious with anything from café au lait to espresso, and not the navy ones with the bold ivory stitching and pointy toes that I bought along the Miracle Mile during my decade-long stint at Northwestern's medical school. ("I'm forty and I have a Ph.D.," I said to the Nordstrom's saleswoman. "Can I wear these?" "You must," she answered.)
Thanks to the pandemic, I've been wearing my running shoes and not my dress shoes, and the persistent use of the former has meant the outgrowing of the latter. But I didn't want to miss this event.
Not only was it a chance to be among smart and powerful people at the home of a smart and powerful woman, the coalescing theme would be the First Amendment, the subject about which I had just written a paper for a Routledge volume edited by JP Messina, New Directions in the Ethics and Politics of Speech. My article – "Democracy without the Government: The Importance of Local News to Free Speech" – meant my own work felt newly relevant to this event. And if there is one thing the pandemic has left us all feeling, it's a little irrelevant.
I'm grateful to JP for including me in this project, wherein he challenged contributors to explore and express something other than the usual (accurate) worries about chilling of speech happening on American college campuses. I took the opportunity to think about how the newspaper I founded, East Lansing Info (ELi), has fomented local attention to our First Amendment rights beyond freedom of the press, to consider how the loss of local news in America means the loss of that hyper-localization of critical rights. (If ELi starts up again, which it now looks like it might, maybe it should give out fundraising tote bags that say not "Shop local" but "Be free locally.")
The event at Ms. Hefner's place centered on the celebration of a new book by Stuart Brotman, The First Amendment Lives On: Conversations Commemorating Hugh M. Hefner's Legacy of Enduring Free Speech and Free Press Values. Supported by the Hefner Foundation, Prof. Brotman has used the Playboy interview as a model for this collection of dialogues with eight leading doers in free speech. One of the people he interviewed, Geoffrey Stone of the University of Chicago's law school, had put me on the party invitee list.
Fortunately, before the evening event, I had enough time in Hyde Park to run over to Wesley's, my favorite footwear shop (and the oldest Black-owned shoe store in the country), to get something to go with my standard-issue little black dress.
The thing is, Wesley's is a comfort-shoe store – they will not sell you an uncomfortable shoe – and consequently they don't carry a lot of dressy women's shoes. The one black pump they had was only available in my old size.
So, the saleswoman suggested I reconceive my outfit and consider the red shoes shown above. "Am I stylish enough to wear these?" I asked. "You will be if you wear these," she answered, laughing.
The issue of what to wear may sound trivial, but I have long found that it is part of what makes me feel like I still have a profession.
My work life has had amorphous borders ever since I gave up tenure when my son was four to be with him more. Those borders felt even more sloppy with a pandemic that turned dressing up for work into looking good from the waist up. It has all felt like a protracted version of the time I interviewed was on Good Morning America about a high-publicity conjoined twin separation. This was shortly after my son was born and the only thing that fit me on the bottom was pajama pants. I sat behind a table hoping the camera guys would keep their promise to stay above that plane. (They did.)
Here, I'm going to skip the details of what happened when Geof Stone gave me a ride from Hyde Park to Ms. Hefner's home and on the way there we hit a cavernous pothole on DuSable Lake Shore Drive and blew a tire….
We made it. I got to hear the remarks by Ms. Hefner and Prof. Brotman. Geof arrived in time to speak about campaign finance as a sad case of American political erosion and about the frightening signs coming out of this Supreme Court.
But, being in that room of powerful people, particularly listening to Stuart and Geof – it did what it often does for me: made me wonder if I should have stayed on a conventional academic track, not given up tenure, not quit my job at Northwestern over censorship. Had I stayed on track, I would have kept stepping into bigger academic shoes.
The people interviewed by Stuart for this very interesting book all managed to have cohesive careers that made sense. Their shoe sizes had gone up from upward growth, not from lots of running.
At the convocation of my son's graduation at the University of Chicago last weekend, listening to the introductions of all the distinguished academics, I was struck again by the same feeling, of having failed at my Ph.D.
Still, it's impossible not to notice – amid this wash of grey tones – this happy sunshiny yellow that I am, in fact, enjoying immensely what I'm doing now: writing articles for interesting volumes and magazines; working on a thoughtful podcast with my old friend Mike Teager (it will have its release soon); working on a nonfiction book proposal with my literary agent Matt Carlini, on the importance of storytelling to survival; giving public talks and setting up some new-topic lectures to give next academic year (all of which means meeting more interesting people and getting to be with students again); working on the release of Book One of my mystery series and drafting Book Four; and helping to figure out how to restart news reporting at ELi.
All I'm missing is the teaching and the archives. (Insert here the feeling of missing your best dog.)
I presume humanity sends specific messages about what productivity and success look like because we evolved to know how to be prosocial. And nowadays we also have shoes to sell. But it helps me to be 56 years in and to know even the people who appear to be at the top of their game hit potholes, sometimes feel irrelevant, and occasionally don't know what to wear.
It's Chapter 9 of the Stephen Mitchell translation of the Tao te Ching that cures:
Fill your bowl to the brim and it will spill.
Keep sharpening your knife and it will blunt.
Chase after money and security and your heart will never unclench.
Care about people's approval and you will be their prisoner.
Do your work, then step back. The only path to serenity.
At the event, I bought three copies of Stuart's book: one for my son, to whom I like to give author-signed works; one for my great lawyer, still defending me in the real estate developer's defamation suit as the plaintiffs are appealing the judge's summary dismissal; and one for myself. I asked Stuart to sign all three and introduced myself briefly as he leaned over the table to sign them. As I spelled my name, he stood up suddenly and said to me that he knew who I am chiefly because he is an alum of Northwestern and was horrified at the circumstances that led to my resignation from that university.
Yes, I said, that was me – that I had met my now-friend Geof Stone specifically because of that disaster, and that Geof had in fact helped me compose my letter of resignation. And then it occurred to me that I wouldn't have been at this party or have Geof as a friend if it hadn't been for that resignation.
I can't remember if I mentioned to Stuart how strange it felt to be in this Streeterville apartment way up high looking down on my old stomping ground, looking down on the places where I used to grab lunch and stop for coffee when I was working on site at Northwestern's med school.
Even with Stuart's kind words, I felt shy and was having trouble introducing myself to these people. They all had calling cards. It hadn't even occurred to me to make and bring one. (And what would it say?)
But the heels turned out to be good for breaking ice; in turn, four women stopped me to ask where I'd gotten them, and we introduced ourselves and chatted for a while.
And on the train ride home, I started reading Stuart's book and realized that maybe it is okay to have run away enough to have grown my feet. The conversations in the book suggest there is plenty of work left to be done. We can each only sit, stand, walk, or run so long.
If you know someone who needs some decent dress shoes in 5.5 – 6.5 American women's sizing, do let me know. I'll dust them off and ship them, no charge. And if you puzzle through what my calling card should say, send me that?